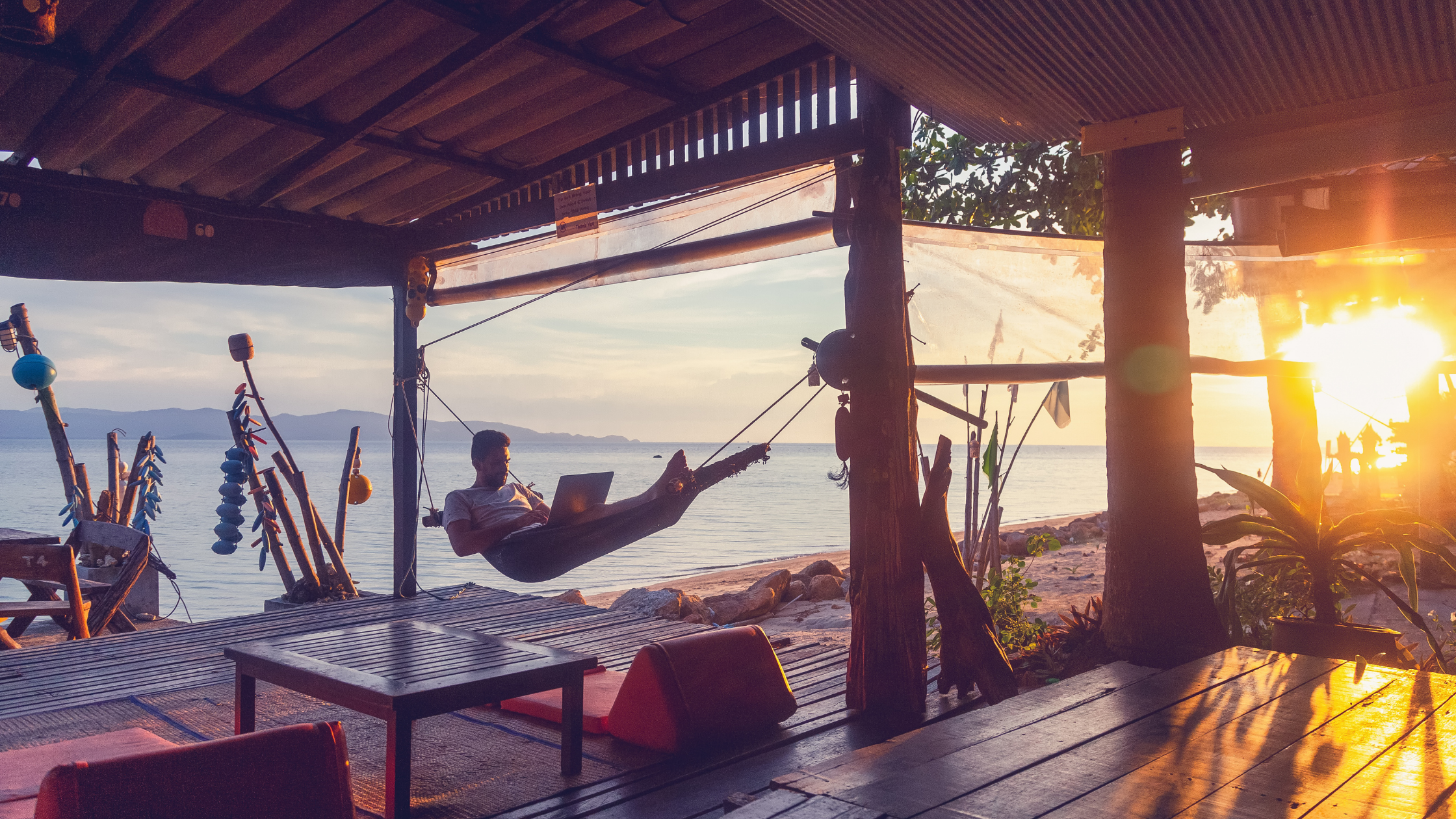 If you have endless to-do lists and you're suffering from FOMO and deadlines stress, the term "vacation" probably sounds like a foreign word to you.
Being the person who runs the whole show, you may be worrying that the moment you disappear to wind down a bit, your whole operation will fall into pieces. Well, there are at least three solutions for that…
1. Ignore nice sunny days and never take a vacation.
2. Pretend you're taking your summer holidays and work from home – Shutterstock offers nice shots for social media purposes.
or…
3. Go for a workation.
Assuming you have not gone mad yet, you can forget about the first two options. Let's take a look at the third one then.
Like every industry, tourism has its own trends, and when global marketing experts say 'Follow your customers', travel specialists answer 'All right then, off we go!' Workation is for all those who seek sun, adventure, and for those who need to keep an eye on their key projects and, importantly, who can do so remotely.
In general, the concept of workcation is a combination of work and vacation and has evolved in response to the new sense of freedom that many of us have been awarded at work. It may be taken on a short-, medium- and long-term basis, depending on how low your batteries are and how much time you need to recharge them. Technology has enabled us to change the way we work for the better. Let's use it!
A million-dollar tip just straight ahead: Plan your workcation well, as it's so easy to get lost somewhere in between holidays and work. It's so easy to be fully stressed out if you don't make enough time for total relaxation and for deep work, either. But remember what Benjamin Franklin used to say: "If you fail to plan, you plan to fail". No worries, I'm about to tell you how to schedule and operate your dream summer holidays!
Step 1: Plan vacations well in advance.
Treat your summer break as a project that needs a dedicated schedule of activities (and budget, of course!). If you have no chance for long holidays, choose a vacation that is already near a bank holiday and you will win some extra time for yourself. Block the days in your team and family calendar: it can do magic when it's done in advance.
Step 2: Carefully select destination and accommodation type.
There are many wonderful places around the world that would make a perfect workcation destination. As we live in a digital nomad era, we can point a few popular examples for workcation lovers:
🇪🇸 Spain, especially Canary Islands;
🇭🇷 Croatia;
🇲🇽 Mexico;
🇵🇹 Portugal;
🇦🇪 Dubai;
🇩🇴 Dominican Republic and many other, beautiful places.
Each person is unique and has their own personal preferences, however, when choosing your destination, pay attention to:

Time zone – it will matter when you have to set up calls, online meetings, and deadlines, so choose your location wisely to avoid waking up at 3 am.

Cost of living – it's always important when you plan a long-term workcation. Renting an apartment will definitely be more economical than staying at a hotel.

Excellent internet connection – it is a key factor here – if you ignore this issue, you're shooting yourself in the foot. Information about good, open wi-fi declared on the hotel or apartment's website is not enough: you should contact them directly and discuss all possible solutions for a fast, stable internet connection on the spot.

A dedicated workspace – it's easy to find an apartment with a desk so that you don't have to work from your bed or the kitchen table. Treat yourself (and your back!) with care and make sure you select this option while filtering the amenities.
Step 3: Cross-train your team and travel companions.
Being the project manager or the owner of the business, you surely have some rare skills and you often feel irreplaceable. However, with the right training, your team members can likely jump in your shoes. 
Again – use technology and trusted platforms for remote teamwork. Before planning all tasks and responsibilities, maybe it's time to switch to an all-in-one tool that will make your teamwork more smooth, intuitive, and efficient? One that will make your everyday routine much more simple and improve your work-life balance. Imagine logging off just 1 platform, not the usual 3 or 5 dispersed apps. No more "Have I turned the oven off?" scenarios in your head as you're sitting on the beach – just one click and you're off.
As you're leaving your office space with all the cybersecurity perks, make your data's safety a priority. Have you heard about the safe PrivMX cloud? It allows you to access all-things-work from wherever you are in a secure and easy way. Just have a look.
Don't forget about your travel companions. They should know your daily routine. Make an agenda: think of how many hours you plan to work every day – remember that your brain works faster and better in the mornings. 

When you focus on your tasks, operate according to a well-designed plan. With no such distractions around as office chatting about the latest Netflix releases or scrolling social media posts, you can actually become more efficient and complete all your tasks much faster.
Take a lunch break with your family and friends at this local restaurant around the corner. Have a wonderful afternoon on the beach, spend it on a short trekking or biking trip. And just before heading to a nice dinner and evening entertainment, schedule a 45-minute session to monitor the progress of the team and plan your next morning tasks.
Step 4: Focus on major things and stick to the plan.
To be successful in your workcation, it's essential to value your projects and tasks. Don't waste your time answering small questions other team members can easily deal with. Stay assertive! If you're available 24/7 on a regular basis, this time respect your own limits.
A popular solution that is often ignored is setting an automated message for phone calls and emails. Instead of feeling the urge to respond to every email and phone call coming your way, take a moment to set an autoresponder explaining that you are on vacation, including an alternative contact number (to some other team member, for instance) as well as the date of your return. This will help keep anxious clients at ease.
We know very well that it's very important to be consistent because all these small talks with your clients and office friends can get you on a wrong track and inconspicuously you will end up working nine to five and missing out on all the afternoon activities and nice "umbrella drinks" by the pool.
Step 5: Give yourself a break – the world isn't going to end without you.
That's the hardest part … I know, but when you do it, you will realize these offline moments are as valuable as diamonds. What are these precious stones exactly?
the release of stress by reconnecting with nature,
learning new skills by socializing with the locals and getting to know their lifestyles,
an explosion of creativity by discovering new places and experiencing new cultures,
strengthening the relationships with family and friends – just – – staying close all the time, sharing wonderful and lazy summer moments.
Conclusions:
Holidays play a significant role in our lives and we should value them as much as our annual key projects. That is why we should plan our holidays in advance and adjust them to our needs. A thoroughly planned workcation is a great solution for combining travels, discovering the world's treasures, broadening your perspectives, developing creativity and strengthening relations, taking care of your business and successful career all the while.
Remember: happiness improves productivity. We live in the world of amazing technology and IT solutions, let's make the most of it!